James Cash Penney, Jr.
Any substantial record of the history of the Missouri dairy industry would be incomplete without the inclusion of Missouri native son, James Cash Penney, Jr. Better known as J.C. Penney, his life-long embodiment of character, hard work and generosity were admired and respected. Mr. Penney's contributions to the world, and more specifically the dairy industry, should not be overlooked and cannot be overstated.
J.C. Penney was born in Hamilton, Missouri on September 16, 1875 and died in New York February 12, 1971. He fathered five children. Penney earned a law degree from the University of Missouri in 1953. He authored "Fifty Years with the Golden Rule," published in 1950. He was an honorary life member of the Missouri Guernsey Cattle Club.
In 1952, Penney donated the Foremost Guernsey herd of 250 animals, equipment, proceeds from the sale of his Emmadine Farm in Duches County, New York, and $250,000 to the University of Missouri dairy department. Originally Mr. Penney had scheduled the donation for 1996, however he moved up the date of the donation in order to help the University in educating dairy students earlier. In 1952, the University valued the total donation at $724, 322. Using the U.S. Treasury Consumer Price Index calculator that figure translates to $6, 292,608 in today's money. He continued to donate individual animals and kept abreast on how his contributions were utilized.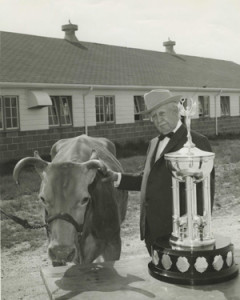 James Cash Penney's affluence was always used to select the very best quality of everything as judged from his own eyes. His strict upbringing, the hard work in his younger years, and his success in the mercantile business were all put to good use in selecting the herdsman, cattle, and facilities that led to his fame in the dairy industry. He strived for excellence, stability and longevity within his dairy herd.
"A lifetime is not sufficient to accomplish a great deal in improving a breed," is one of his most quoted statements about dairy. He developed the Foremost Guernsey Association with the expressed purpose of continuing Foremost Guernseys far beyond his own lifetime. Penney's dream and vision are still at work today on route U.S. 40 west of Columbia by the likes of herdsman John Denbigh, associates and supervisors. Karl Musser, former executive secretary of the American Guernsey Cattle Club stated: "Mr. Penney has built a living monument to a cause and not to himself."
Penney's legacy has benefited innumerable people throughout the world. This is why the Missouri Dairy Hall of Honors chosen to recognize Mr. Penney by including him among the Pioneers of the Missouri dairy industry.