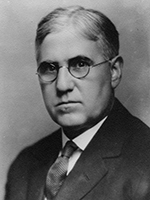 C.H. Eckles
Clarence Henry (C.H) Eckles had a great influence on the U.S. dairy industry, not only through his direct contributions to research, but also through his impact in the lives of students as an educational leader.
C.H. Eckles was born on April 14, 1875 near Marshalltown, Iowa. He attended Iowa State College and graduated in 1895 with a bachelor of science degree. Upon graduation, he was appointed assistant in dairy husbandry and dairy bacteriology. He continued his education and earned a master of science degree from Iowa State College in 1897. In 1916, after extensive studies and research both in country and abroad, he was awarded a doctor of science, honoris causa, from the same university.
C.H. Eckles worked at the University of Missouri from 1901 to 1919. He was hired in 1901 as an assistant professor and head of the newly organized department of dairy husbandry. While in Missouri, he built a department strong in teaching and research. He also spent a year abroad studying at the Georgia Augusta University in Gottingen, Germany, and at the dairy experiment station at Liebefeld near Berne, Switzerland.
In 1907, a team of students, coached by C.H. Eckles, became the first intercollegiate dairy cattle judging team to attend a national contest, the National Dairy Show in Chicago, Illinois. C.H. Eckles also established the Holstein breed at the University of Missouri through the purchase of four bred heifers. In 1910, a daughter of one of these heifers, Missouri Chief Josephine ("Old Jo"), brought worldwide to the university. She produced 26,861.5 pounds of milk, containing 740 lbs. of butterfat, in one year, which was the second best yearly record in the world.
In 1919, C.H. Eckles joined the faculty at the University of Minnesota as a professor and chief of the division of dairy husbandry.
Throughout his career, C.H. Eckles authored and co-authored many books, contributed to several scientific journals, and wrote for numerous farm journals. He was a member of many scientific societies and associations, and of professional and honorary societies including Alpha Zeta, Gamma Sigma Delta, Phi Kappa Phi, and Sigma Xi, the Society of Experimental Biology and Medicine, Fellow of the Iowa Academy of Science, and Fellow of the American Association for the Advancement of Science. He was a founding member the Missouri Holstein Association and the American Dairy Science Association, for which he served two terms as president. C.H. Eckles was an official delegate of the United States at the International Dairy Congress in London in 1928 and in Copenhagen in 1931.
C.H. Eckles' contribution to the dairy industry was also felt through the mentorship he provided to undergraduate and graduate students. In 1916 the Eckles Club was formed, its membership being limited to those students who had received a baccalaureate or graduate degree under Eckles. At the time of his death, the number in the group had reached around 140.
John Underwood from Springfield, Missouri nominated C.H. Eckles for this award. In his letter of support John said "C.H. Eckles is a Pioneer in every sense of the word, as he was one of the main people to lay down the foundation for the advancement of the dairy industry in Missouri."
C.H. Eckles married Alice L. Smith of Ida Grove, Iowa in 1898. They had four children together. C.H. Eckles passed away at the age of 57 on February 13, 1933 in St. Paul, Minnesota.